The Four Phases of Mott House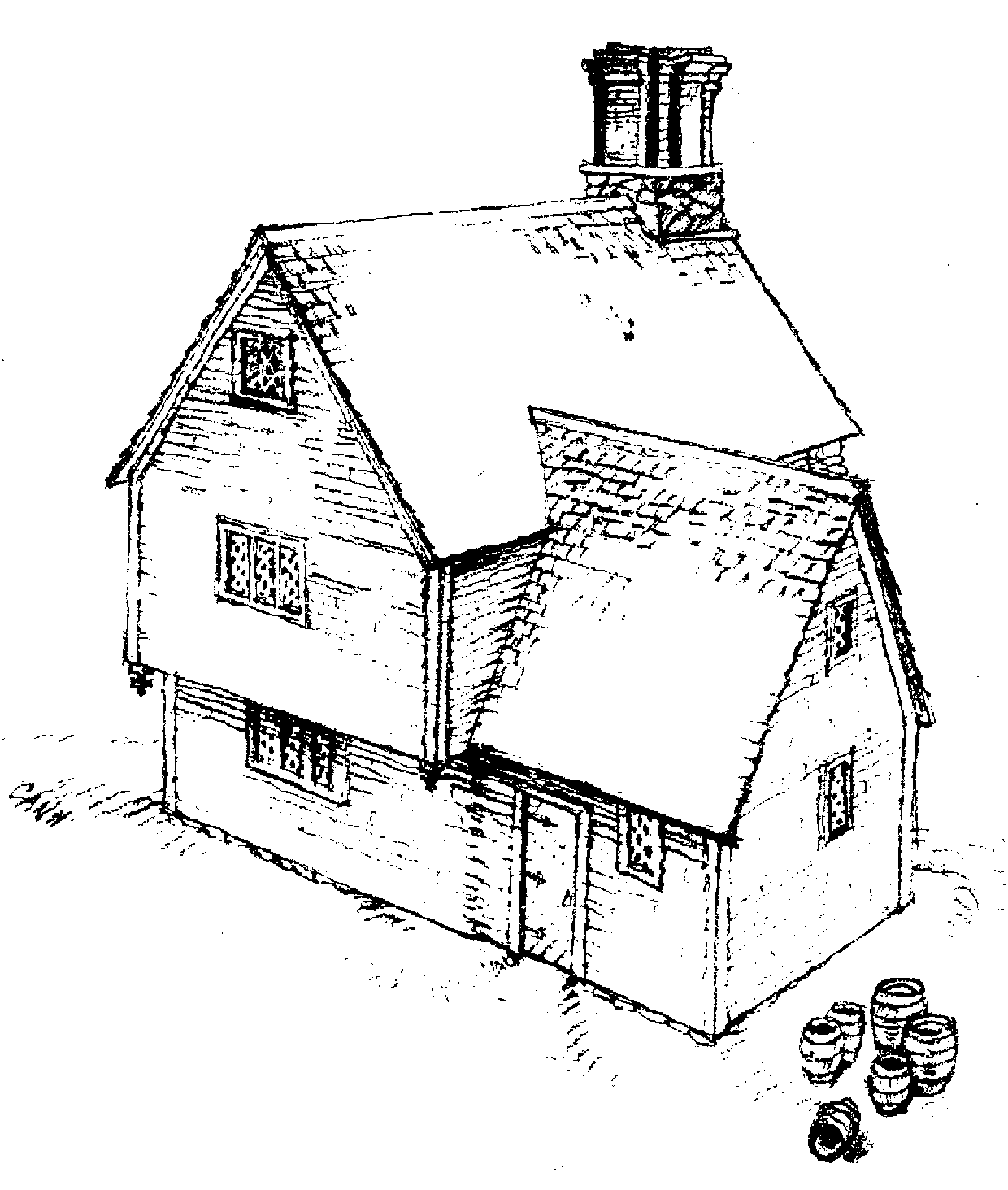 Phase 1 - Jacob I
Drawing of the Mott House in its first phase built by Jacob Mott I, circa 1680. The house started out as a Rhode Island stone-ender, a purlined roof in the attic, an ell and a jetty overhang.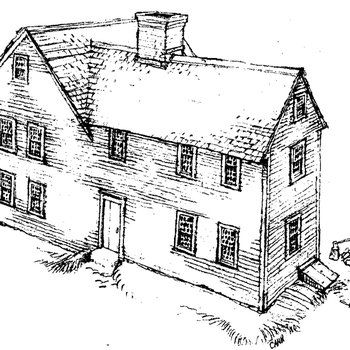 Phase 2 - Jacob II
Jacob II addition making it a 2 story, one room deep structure - circa 1725. Jacob Mott II enlarged the house, removed the ell and removed the jetty overhang. He also tore down the massive stone chimney on its west end.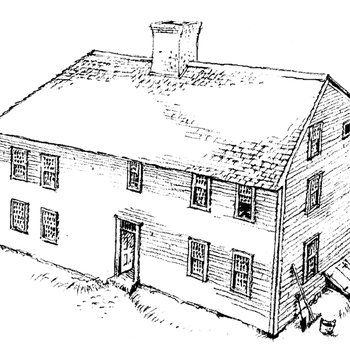 Phase 3 - Jacob III
Jacob III enlarged the house, added rooms across the back and raised the roof. Circa 1732.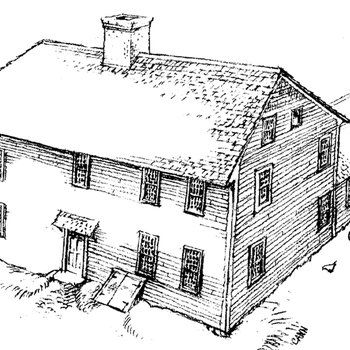 Phase 4 - Jacob IV
Jacob IV added an ell for his 19th century kitchen.
The Mott House
Adam Mott was one of the first founders of Newport and Portsmouth in 1634. Built around 1680 by Jacob Mott, the house was located on a 100-acre tract of land on West Main, Portsmouth, on the south side of Cory's Lane. It is one of Rhode Island's earliest houses. Baker and her team dismantled the house in 1973, planning to re-assemble it. Unfortunately, the wood decayed and crumbled while in storage.
In her report on the Mott House, Anne Baker describes the historical significance of the Mott House and makes the case for its re-assembly to demonstrate the ways American domestic architecture has evolved. Baker describes what was uncovered while dismantling the Mott House, including evidence that the house had originally been a typical Rhode Island two-story "stone-ender." She offers detailed information on how the house was constructed and updated in each of its four stages. Below is an excerpt from her report.
The Mott House by Anne W. Baker
The Mott House is without doubt the finest and most complete example of 17th century Newport, Rhode Island, architecture. In some of its structural and decorative details it is specially exemplary of all New England of that period. In particular its architecture reflects the life style, as well as cultural and political growth of this area. To be sure, there are a few other fine examples existing today, but for the most part they are incomplete.
Fortunately, from a historical view the Mott House had been a low-income property for the past century, a situation of preservation by neglect, which had protected its antiquity from destructive changes which certainly would have come about had the house continued I more affluent hands. In 1973 the structure had been unoccupied for two years and was slated for demolition – its site was to be developed for industrial purposes. Until that year the full impact of the historical significance of the structure was unknown.
To an architectural historian, the massive and decorated 17th century timbering visible in two rooms clearly showed at the outset that indeed, the Mott House was a very special find… indicators enough to stimulate an awareness that this unique slice of American heritage must be preserved. Consequently, an agreement was established with an independent backer who was aware of this significance and who planned to dismantle and re-erect the house elsewhere.
The full importance of the treasure unfolded as dismantling progressed. The uniqueness became self-evident quickly, so many experts were called upon for their knowledge, skills, and, later, their influence not only to preserve this historically rare building but to keep it in situ where it began and grew for three centuries.
Continue Baker's full original account available at https://docs.rwu.edu/baker_documentation/18.
Steve Tyson's daily work record of the dismantling of Mott House in fall 1973. Tyson was hired by Baker to lead the work to preserve the house and uncover its history.