Captain Thomas Paine House
Built c1694 by Captain Thomas Paine on East Shore Road in Jamestown. It is likely the oldest house on Jamestown. The house was named Cajacet by subsequent owner, Seth M. Vose.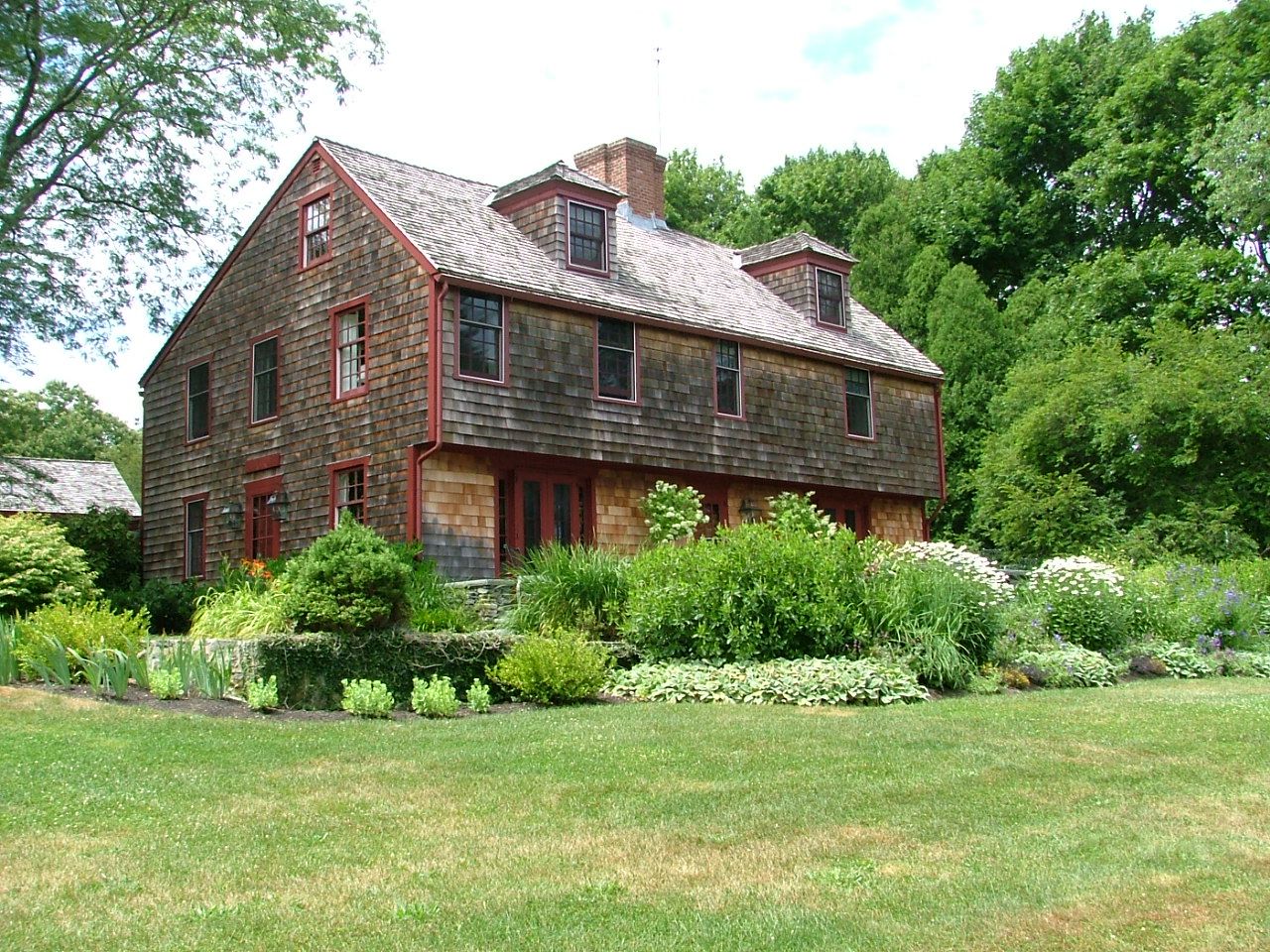 History of the Captain Thomas Paine House
The Captain Thomas Paine House, 850 East Shore Road, Jamestown, Rhode Island, has a Second Period core, circa 1694, constructed by Thomas Paine with 18th, 19th, and 20th century additions. The Captain Paine House is significant in the development of Jamestown, Rhode Island. It has been the homestead of three noted families: Captain Thomas Paine who first purchased the property, built the house and established the farm; the Watson family who owned and lived on the farm from 1815 to 1872; and Seth M. Vose who used the property as a summer residence from 1882 to 1949. The farming activities were maintained and according to S. Morton Vose II were an important part of the childhood memories of several generations of Voses.
The property retains 6.9 acres of its original 160 acreage, a 17th century house, two circa 1885 barns, a stone boat house and a 20th century cottage. The house is dramatically sited on a hill that slopes down to the East Passage of Narragansett Bay. The house and fields are surrounded by stone walls, rail fences and beech trees many of which are over one hundred years old. Fields, stone walls and rail fences still reflect a time when the property was a farm and livestock roamed these fields......
......In 1882 Seth M. Vose, a Providence and Boston art dealer acquired the property to use as a summer residence and named it Cajacet. During their ownership the Vose's added a third story to the original house and a series of wings off the back. The Vose's occupied the site for 60 years until 1949 when they sold the house to Mr. and Mrs. Lucius Collins. The Collins hired John Hutchinson Cady to restore the house to its present appearance. Cady's blueprints and journal documenting his 1949 restoration are available. The property changed hands again in 1978 (Bertham Parker) and in 2003 (Ron Long).